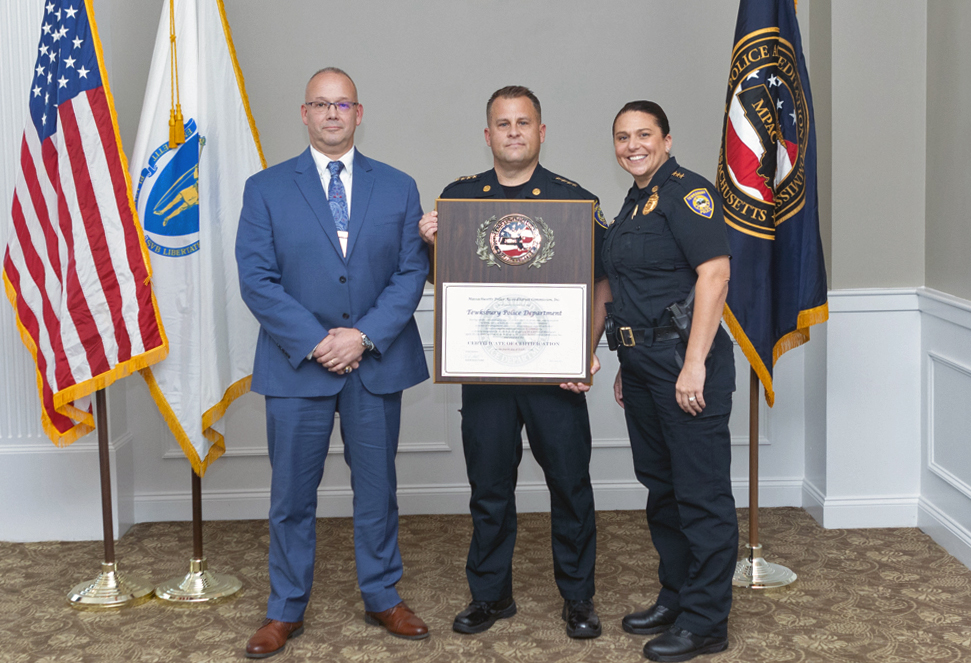 Police Chief Ryan Columbus is proud to share that the Tewksbury Police Department earned certification from the Massachusetts Police Accreditation Commission (MPAC). The Department has already been assessed for full Accreditation and are scheduled to be granted that award in February 2024.
MPAC Certification is a voluntary, self-initiated evaluation process by which police departments strive to meet and maintain the highest standards of law enforcement. Certification is considered the best measure of a police department against established best practices around the country.
Certification means the Tewksbury Police Department:
is committed to meeting professional standards.
is willing to be assessed regularly by Commission-appointed assessors to confirm compliance with professional standards; and
agrees to correct deficiencies discovered during the assessment to establish or re-establish compliance with standards.
The MPAC program requires that departments meet 178 mandatory standards to attain certification. Standards include maintaining up-to-date policies on Jurisdiction and Mutual Aid, Collection and Preservation of Evidence, Communications, Working Conditions, Crime Analysis, Community Involvement, Financial Management, Internal Affairs, Juvenile Operations, Patrol Administration, Public Information, Records, Traffic, Training, Drug Enforcement, and Victim/Witness Assistance.
The certification process is long and rigorous. The Tewksbury Police Department's certification efforts involved a self-review, and subsequent evaluation by a team of Commission-appointed assessors who visited the department on April 4 and 5. Assessors found the department to be in full compliance with all necessary standards required for certification.
Certification is considered a significant step toward accreditation, which requires departments to meet additional benchmarks to achieve MPAC's highest standard.
Tewksbury Police are pursuing full accreditation as well.
I am proud that the Tewksbury Police Department has achieved certification. This is a historic moment for the department to earn this recognition, as it is the first time in our department's history that it has happened," said Chief Columbus. "Our entire department should be recognized for this achievement, as they were all an important part of this process."